Film, TV & Fashion Makeup Academy
Brisbane - Melbourne - Sydney
Australia's Only Specialist Film and Television Makeup Academy

Small Class Sizes
Providing a supportive learning environment for you to thrive in.

Expert Trainers
Who work in the film and fashion industry.

Work Experience & Employment Support
Work experience during your coures and ongoing support in finding employment outcomes.

I wanted to study at AACM because it seemed like the best school to learn at, with plenty of course options/subjects and opportunities. My first impression of AACM was really good; I think of my class and teachers as a family. I really enjoy studying here, every subject is so interesting and the teachers are really good at what they do.
My life has changed quite a bit since studying at AACM. I moved from Perth [to Brisbane] just so I could specifically study at this school with this course. I haven't regretted any of it, I've gained some great friends and have had so many great opportunities so far; I can't wait for the next ones.

I was pleasantly blown away by the calibre of knowledge willingly shared by the school and the teachers at AACM. With the exceptional training they provided I now feel confident enough to perform in a professional manner and provide the looks and skills future employers are looking for in film and television. This school is fun, encouraging and the teachings were very informative. I have made many good friends and contacts in the industry. I would highly recommend anyone thinking of doing the Cinemagraphic Makeup Course to choose this school!

A girlfriend of mine completed the course and recommended it to me. The trainer was very helpful and knowledgeable, I would definitely recommend the course to others.

I personally liked the range of things that were taught. We were not just taught OH&S and basic makeup techniques like most schools offer, but we went into the background, on set education, script breakdowns, realism techniques and a more advanced level of prosthetics that wasn't offered at other schools. I also got to learn from such highly regarded and experienced artists in the industry themselves.
The course taught such great behind the scenes knowledge of what goes on set. Without that you would be walking in blind without the crucial tools you need. Our teachers were able to give us so much information from personal experiences in their careers, which has been so beneficial; they are the best!
I am frequently recommending AACM to anyone serious about getting into the film makeup industry. I have always gotten such huge support from the school and teachers, from studying, to now; the support has always been there. You can't get that from many schools!

Uni wasn't working out for me, I really enjoyed the hands on learning here. The support was very good, everybody was very helpful.

Studying at AACM had been a dream of mine for a few years and I am so insanely grateful that it was well worth moving over from Western Australia for.
The trainers are highly skilled at what they do and it is clear they have a passion for all things makeup, whether that is beauty, special effects or editorial. They want to see each student succeed and will always be willing to provide extra help where needed.
The different focuses for each term make studying so entertaining as you are always learning new skills and because each day is very hands-on, there is never a dull moment.
Now that I have graduated, I never thought my 'Term 1 self' would get so many incredible work opportunities; from student films, to music videos to feature films. I am now working full-time as a Creature FX Artist, with a production company, with many exciting projects coming up.
Studying at AACM is the best place to get your foot in the door and if you are truly dedicated and interested in the world of makeup you will thrive in this industry.

Small class sizes and wonderful teachers who are very supportive with assessments and willing to spend time with us to perfect things. Already had job opportunities through this course… I feel like they really want us to succeed.

AACM has changed my life. I have been able to start and launch a career I didn't think was possible in special effects makeup due to the incredible support from the wonderful staff. I learnt skills that have been invaluable, transferable and they have prepared me for real industry application.The small class sizes made it more personal and much easier to fully grasp the concepts taught and build connections with the fantastic and highly experienced teachers. I was able to immediately go out and start working in the industry with a full kit and portfolio and felt confident to start working. Long after my graduation, I have received support; AACM has helped me develop both personally and professionally and I am forever grateful for my time here.

The trainers are really into it what they are doing, had lots of experience. Classes were really fun and engaging … This has been the most engaging and enjoyable course that I have done in a long time.

The Diploma of Screen and Media covers a lot of the skills in the makeup industry. As I always knew I wanted to be a makeup artist, I never knew what path I wanteds to take. I've learnt so much from AACM and have discovered a lot of my creativity/skills that I did not know about as well as opened up heaps of opportunity. Amazing school, would recommend to everyone 🙂

A perfect course for anyone wanting to get into fashion, film and editorial makeup. The trainers are all working artists with so much experience and wisdom. I have developed a serious edge over other makeup artists. You cover everything!

We like representing AACM graduate artists because we know they have the most current and up to date training, job readiness to start working on set immediately and possess proper industry on set etiquette and health and hygiene standards. AACM graduates are always professional with high skills to be working with high profile clients, elite industry artists and celebrity clientele.
The Queensland Medical Skills Council was so impressed by the realism and quality of the SFX injuries created by our AACM Graduates.
All feedback we receive from out clients have met AACM graduate artists is always positive and the delivery of creative briefs is above and beyond.
When contacted by young artists on the best place to study to learn makeup, we have no hesitations in recommending the Australian Academy of Cinemagraphic Makeup. AACM has become the leader in the Australian creative industry, in training some of Australia's top artists and launching many young artist careers. Their passion to train students to a high calibre is proven in the industry with graduates gaining employment working with Emmy, Oscar and BAFTA Award Winning Artists.

I wish the course went for longer! I have had an amazing time meeting great people, had amazing opportunities and definitely made friends for life. The course content was great, I enjoyed all parts of the assessments. I will be keeping touch with AACM for future workshops, work and the people! I recommend people to do this course, I had the best time

I moved from Perth (to Brisbane) just so I could specifically study at this school. I haven't regretted any of it; I've gained some great friends and have had so many great opportunities so far, I can't wait for the next ones.

My first job came through AACM and led to other future work. Working as a personal assistant on 2 feature films has given me the best look at how a makeup/hair department runs. It is stressful and sometimes overwhelming, but very rewarding and the most exciting aspect of my career so far. AACM helped give me the basic foundation of makeup as well as the confidence to work in an industry I always dreamed of but was scared to pursue. I enjoyed my time at AACM and would recommend them over any of the other schools out there teaching film makeup. They provide valuable teachers and guidance.

We have great teachers who are still working in the field that know updated information and are passionate about what they do and helping us along the way and make it fun! Doing this course is the best decision I ever made, coming here twice a week is the highlight of my week.

My new job required me to do a tinting and waxing course and this is the one they suggested. The corse was very informative and I definitely recommend the course to others, it has been great!

I loved every minute of the Cinemagraphic course at ACCM. I didn't want it to end. The teachers were true professionals in their field and shared there knowledge, skills and passion. The course provided up to date techniques and only the best of everything was provided. I now feel prepared and equipped to enter a new career. I'm excited by the opportunities the course has opened up for me.

Choosing to Study at AACM was one of the best decisions I have ever made in my life!  It has always been a dream of mine to work in makeup/SPFX within the film industry, and now that dream has become a reality thanks to AACM!
AACM is such a wonderful and creative space , everyone is so welcoming and supportive. I felt like I was part of a family and still do. The trainers are highly skilled, friendly and they have a strong passion for all things makeup and effects. 
Since graduating I have had so many amazing opportunities from working on Photoshoots, Fashion Shows to Feature Films and I now have my dream job working full time as a Creature FX Artist for a production company. 
I loved every minute of my time at AACM and highly recommend anyone wanting a career in makeup whether it be for film, TV, bridal etc.
Definitely choose AACM!

I chose AACM because it was the top makeup school available, and completing the diploma is the best thing I've ever done. What I have learnt, and who I have met gave me the best start in my career.
Immediately after graduating I worked on a big feature film and haven't stopped since. I also do freelance makeup, lash extensions (which I learnt at AACM) and now I am back studying my Certificate III in Hairdressing.
I've always felt welcome and supported, and I will always come back to AACM for additional learning.

I came across AACM by accident. I was at point in my life where I was purely alive, but not living. Just hearing about what this school could offer had me wide-eyed in awe. I signed up the second I could and buckled up for one of the wildest most educational rides of my life. To say that Shannon made my AACM days some of the best moments in my life is an understatement. I had never met someone with such aptitude and passion for teaching. I feel so honoured to have learnt from such knowledgeable heads – and continue to do so. Not many schools offer support once graduated and I'm happy to say, I didn't go to one of those schools. I am gifted with around the clock support and encouragement from all staff at AACM (whether they taught me or not). My makeup career has boomed working onset films, photo shoots, music clips and anything the world will throw at me. I guess everything does happen for a reason and stumbling across AACM was no accident.
If you are someone that is creative, knowledge hungry, open minded and a little weird. I'd 100% recommend studying Cinemagraphic Makeup. And if you're someone wanting to study Cinemagraphic Makeup, you'd be silly not to choose AACM. If I had to sum up AACM in one word, it would be 'quality'.

It's the career path I want to follow, best school for special effects and makeup.

This course was recommended to me by industry contacts.

I wanted to study at AACM since I first found out about the college in 2013 and I'm finally in a place where I can.

AACM is considered the best

Studying at AACM has been the best decision I've made for my career, the trainers were my favourite part and I learnt so many new skills and techniques. I can not thank them enough, I have and will highly recommend this school!

I wanted to study at AACM since I first found out about the college in 2013 and I'm finally in a place where I can

I have been working in the film and television industry for 25 years. I have been able to provide work experience and casual paid work positions for ex students of AACM on several projects.
AACM students are well rounded, creative, responsible and think outside the box. They have good product knowledge and are able to use their learned skills. Their training is, in my opinion, the highest standard in Australia. The teachers are active in the industry on current big and low budget films and therefore up to date on standards, creative practices, product training and development.
AACM offer ongoing mentoring after graduation. They are supported during some of the hardest times in a very competitive industry,
I have no hesitation in recommending students of AACM.

It's the career path I want to follow, best school for special effects and makeup

Small class sizes and wonderful teachers who are very supportive with assessments and willing to spend time with us to perfect things. Already had job opportunities through this course… I feel like they really want us to succeed. I feel qualified and confident to enter the industry. If you are interested in makeup as a full time job or wanting to learn prosthetics for cinema, this is the best place to study.
Previous
Next
Visit our Campus, book a Call or attend an Open Day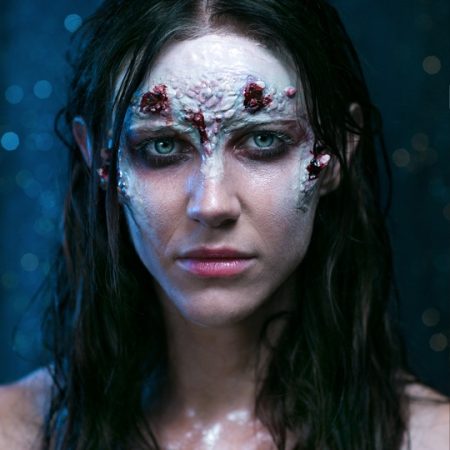 Open Days
Join us for The Australian Academy of Cinemagraphic Makeup Campus Open Day & Student Showcase.
Our Campus Open Day & Student Showcase is the perfect way to start planning your studies. Whether you are looking to complete a short course or want to kickstart your career with a Diploma, our campus is open to everyone!
REGISTER FOR AN OPEN DAY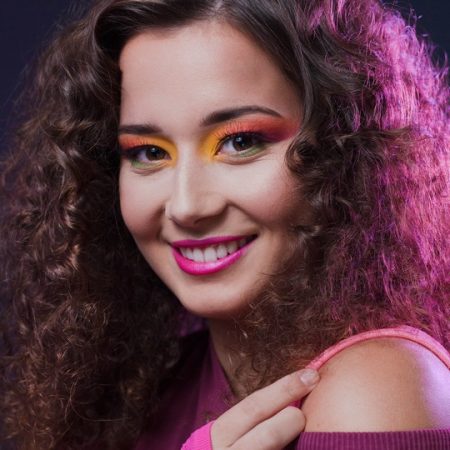 Campus Tours & Enrolment Advice
Don't want to wait for the next Open Day? Book a personal tour or phone call instead. An opportunity to look behind the scenes and discuss your study options with us.
You'll have an opportunity to meet one-on-one with a member of our team. This is a great way to discuss your course of interest in more detail, payment options and the makeup industry and career options in general.
Ready to Enrol?
Study at Australia's leading Film, TV, and Fashion Makeup Academy