Our Vision
To make specialised quality education for the Special Effects Makeup Industry affordable and worthwhile, supporting students and helping them get one step closer to their life's purpose.
Our Mission
To become the leading education provider for the Special Effects Makeup Industry, providing first-class education services to our students. For our students, our mission is to discover their true potential and ability, providing our graduates with the right opportunities for successful career outcomes.
Our Values
Empower students, staff, and our partners. To motivate, coach and mentor.
Share our experience, knowledge, and resources. To succeed as a team.
Respect each other and each other's work. To celebrate collaboration.
Innovate through creativity and visionary thinking. To break boundaries.
The Australian Academy of Cinemagraphic Makeup is your ticket to an exciting career in the fashion, television, film, entertainment, hairdressing and makeup industry. We want our expert training to be just the beginning of a very exciting career for each and every one of our students.
Here are just a few reasons to study with us:
Exclusive fashion, film and tv makeup courses designed to support your success in the industry

Highly specialised hairdressing courses enable you to enter the industry or advance your skills

Nationally recognised qualifications to meet the highest standards and industry requirements

Educating specialist makeup artists for over 20 years

Face-2-Face classes supported by online resources to ensure high quality delivery and support

Small class sizes, we care about you and your experience

Expert trainers and support staff who also work in the film and fashion industry

Selected courses include professional photography shoots to create your individual portfolio

Supported learning environment for every learner type

Big Alumni and industry network for you to stay connected

Ongoing assistance in finding work in the industry

Work experience opportunities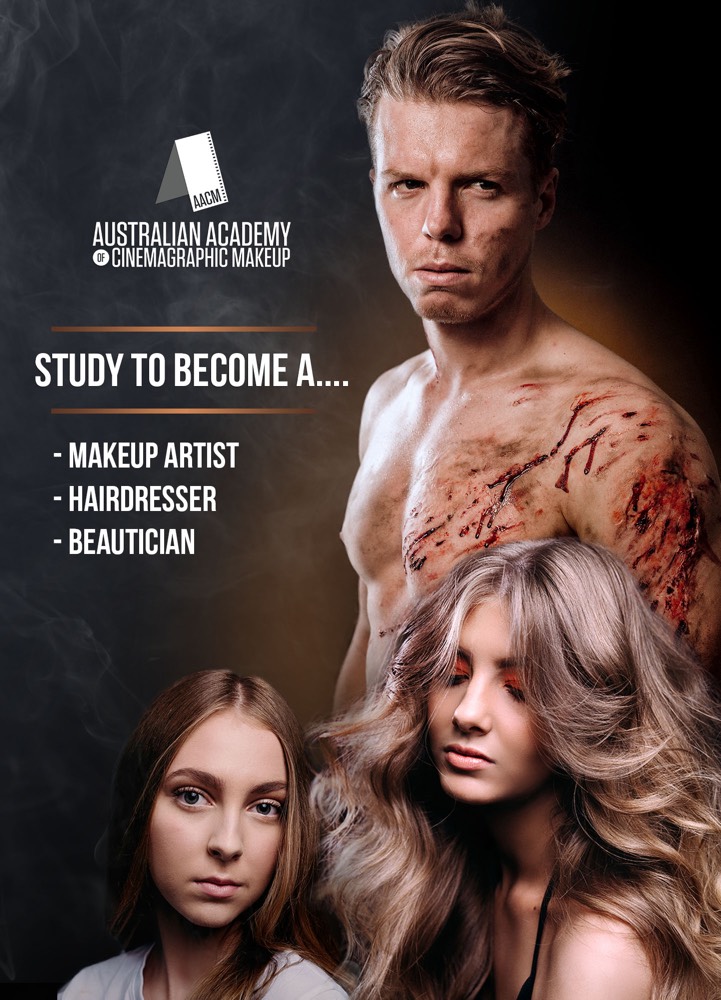 I personally liked the range of things that were taught. We were not just taught OH&S and basic makeup techniques like most schools offer, but we went into the background, on set education, script breakdowns, realism techniques and a more advanced level of prosthetics that wasn't offered at other schools. I also got to learn from such highly regarded and experienced artists in the industry themselves.
The course taught such great behind the scenes knowledge of what goes on set. Without that you would be walking in blind without the crucial tools you need. Our teachers were able to give us so much information from personal experiences in their careers, which has been so beneficial; they are the best!
I am frequently recommending AACM to anyone serious about getting into the film makeup industry. I have always gotten such huge support from the school and teachers, from studying, to now; the support has always been there. You can't get that from many schools!

We have great teachers who are still working in the field that know updated information and are passionate about what they do and helping us along the way and make it fun! Doing this course is the best decision I ever made, coming here twice a week is the highlight of my week.

I loved every minute of the Cinemagraphic course at ACCM. I didn't want it to end. The teachers were true professionals in their field and shared there knowledge, skills and passion. The course provided up to date techniques and only the best of everything was provided. I now feel prepared and equipped to enter a new career. I'm excited by the opportunities the course has opened up for me.
Previous
Next