Our Vision
To make specialised quality education for the Special Effects Makeup Industry affordable and worthwhile, supporting students and helping them get one step closer to their life's purpose.
Our Mission
To become the leading education provider for the Special Effects Makeup Industry, providing first-class education services to our students. For our students, our mission is to discover their true potential and ability, providing our graduates with the right opportunities for successful career outcomes.
Our Values
Empower students, staff, and our partners. To motivate, coach and mentor.
Share our experience, knowledge, and resources. To succeed as a team.
Respect each other and each other's work. To celebrate collaboration.
Innovate through creativity and visionary thinking. To break boundaries.
The Australian Academy of Cinemagraphic Makeup is your ticket to an exciting career in the fashion, television, film, entertainment, hairdressing and makeup industry. We want our expert training to be just the beginning of a very exciting career for each and every one of our students.
Here are just a few reasons to study with us:
Exclusive fashion, film and tv makeup courses designed to support your success in the industry

Highly specialised hairdressing courses enable you to enter the industry or advance your skills

Nationally recognised qualifications to meet the highest standards and industry requirements

Educating specialist makeup artists for over 20 years

Face-2-Face classes supported by online resources to ensure high quality delivery and support

Small class sizes, we care about you and your experience

Expert trainers and support staff who also work in the film and fashion industry

Selected courses include professional photography shoots to create your individual portfolio

Supported learning environment for every learner type

Big Alumni and industry network for you to stay connected

Ongoing assistance in finding work in the industry

Work experience opportunities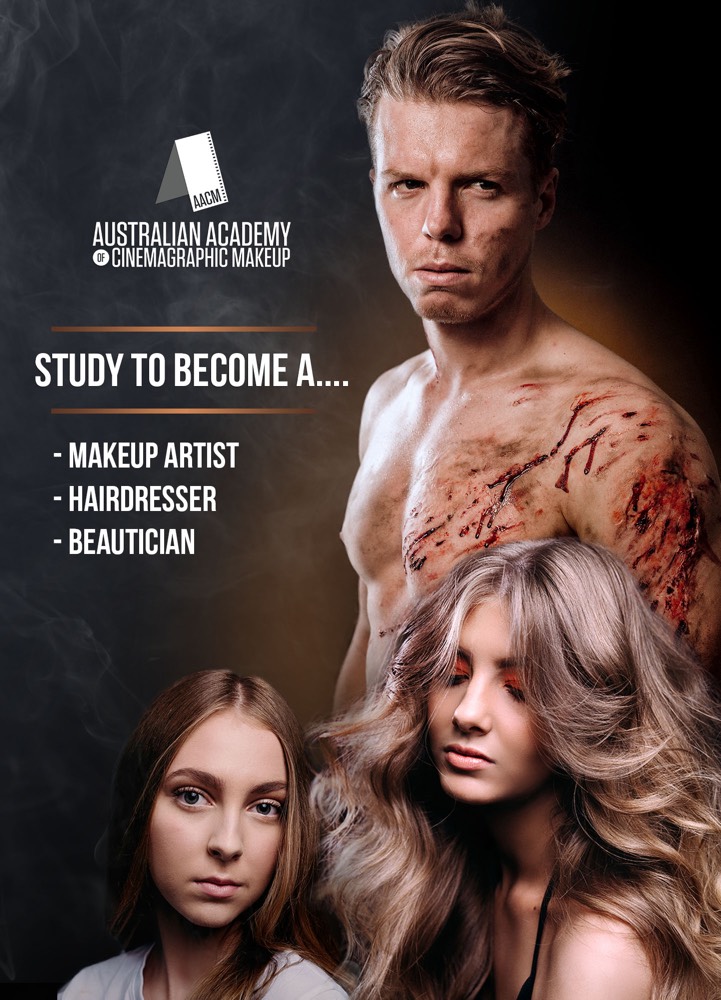 Amazing teachers and really fun

We like representing AACM graduate artists because we know they have the most current and up to date training, job readiness to start working on set immediately and possess proper industry on set etiquette and health and hygiene standards. AACM graduates are always professional with high skills to be working with high profile clients, elite industry artists and celebrity clientele.
The Queensland Medical Skills Council was so impressed by the realism and quality of the SFX injuries created by our AACM Graduates.
All feedback we receive from out clients have met AACM graduate artists is always positive and the delivery of creative briefs is above and beyond.
When contacted by young artists on the best place to study to learn makeup, we have no hesitations in recommending the Australian Academy of Cinemagraphic Makeup. AACM has become the leader in the Australian creative industry, in training some of Australia's top artists and launching many young artist careers. Their passion to train students to a high calibre is proven in the industry with graduates gaining employment working with Emmy, Oscar and BAFTA Award Winning Artists.

I came across AACM by accident. I was at point in my life where I was purely alive, but not living. Just hearing about what this school could offer had me wide-eyed in awe. I signed up the second I could and buckled up for one of the wildest most educational rides of my life. To say that Shannon made my AACM days some of the best moments in my life is an understatement. I had never met someone with such aptitude and passion for teaching. I feel so honoured to have learnt from such knowledgeable heads – and continue to do so. Not many schools offer support once graduated and I'm happy to say, I didn't go to one of those schools. I am gifted with around the clock support and encouragement from all staff at AACM (whether they taught me or not). My makeup career has boomed working onset films, photo shoots, music clips and anything the world will throw at me. I guess everything does happen for a reason and stumbling across AACM was no accident.
If you are someone that is creative, knowledge hungry, open minded and a little weird. I'd 100% recommend studying Cinemagraphic Makeup. And if you're someone wanting to study Cinemagraphic Makeup, you'd be silly not to choose AACM. If I had to sum up AACM in one word, it would be 'quality'.
Previous
Next